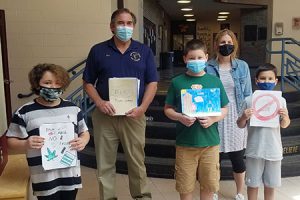 Three elementary students received awards in the Watervliet Elks annual drug awareness poster contest. About 15 student entered the contest creating posters based on this year's theme: "Drug Abuse, No Excuse."
Representatives from the local Elks stopped by Watervliet Elementary School recently to recognize the winners and present their awards.
Congratulations to the following students:
Jack Link, 5th grade: 1st place
Zakyyah King, 3rd grade: 2nd place
Christopher Sarinelli, 4th grade: 3rd place
The annual contest is open to all 3rd, 4th, and 5th grade students in the Watervliet Elks Lodge district, which includes the Watervliet, Menands, and Green Island school districts. The Lodge picked a 1st, 2nd, and 3rd place winner for each grade level. The third place prize is a $25 gift card, second place is a $50 gift card, and first place is a $75 gift card.