Watervliet fourth-grader Carleigh Martin's design has been chosen to move on to the state-level competition after winning first prize for her grade-level category in the Watervliet Elks Lodge's annual drug awareness poster contest.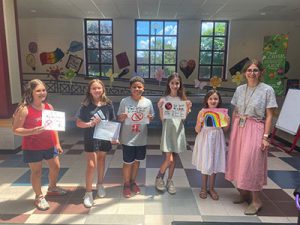 A total of five students from Watervliet Elementary School were recognized recently for their creativity and artistic skills for submitting posters representing this year's theme: "The Best Me is Drug Free." The annual poster contest is open to third, fourth, and fifth grade students in Watervliet and neighboring school communities within the Elks district. Students had total creative freedom for the design, as long as their posters did not include any copyrighted material. Posters were judged by how well they reflected the contest theme, neatness and originality.
Congratulations to the following students for their prize-winning posters:
3rd grade
Bianca Yetto (3rd place)
4th grade
Carleigh Martin (1st place)
Natalie Delisle (3rd place)
5th grade
Macey Wallas (3rd place)
Malachi Prince (2nd place)
Each student received a gift card to either Walmart or Amazon as prizes.