Our entire school community grieves the loss of 11th-grader Matthew Billetts, who passed away unexpectedly yesterday afternoon as the result of an accident at Hudson Shores Park. Our deepest sympathy is with Matthew's family and friends as we keep them in our thoughts and our hearts during this most difficult time.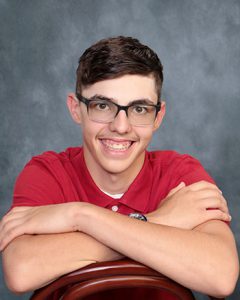 A member of the Watervliet school community since kindergarten, Matthew will be remembered for his sense of humor, his outgoing personality, his enthusiastic school spirit (always dressing to the nines on our themed spirit days!), his love of muscle cars and his passion for all things automotive. His friends describe Matt as "always chill, easy to make friends with, compassionate, helpful and always smiling."
"Coping with the loss of a student, a friend, a classmate is one of the most difficult challenges we can face as a school community," said Superintendent Don Stevens. "Our hearts are heavy for Matt's family and friends, as we join together as a community to support one another and mourn this devastating loss."
Watervliet Jr.-Sr. High School's Student Support Team met early this morning before the opening of school to plan how best to provide support to staff members and students as we process this tragic news and cope with our grief. Throughout the school day, counseling and bereavement services continue to be available to all of our students and staff members. We are grateful for the support of neighboring school districts that reached out and offered the support of counselors and social workers to assist us today.
This evening from 7-8 p.m., we invite students, staff members, families and the community to participate in a candlelight vigil in remembrance of Matthew at the Watervliet Jr.-Sr. High School athletic field.
The following grief resources are available for families looking for help with talking to their children about trauma and death: