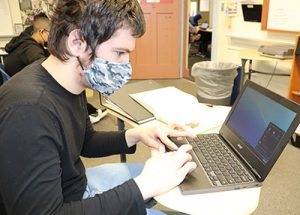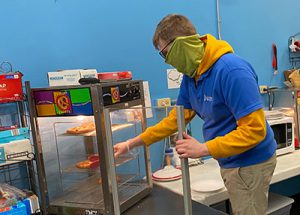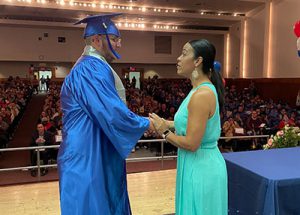 Nine Watervliet High School seniors recently graduated from Capital Region BOCES Career and Technical Education (CTE) programs. Congratulations Peter Angus, Vocational Training and Transition; Daniel Baughn, Building Trades; Zachary Czwakiel, Retail and Office Services; Joseph Fogarty, Criminal Justice; Jason Foster, Pet Tech; Simeon Gonzalez, Digital Media Design; Isaiah Harris, Automotive Trades Technology 1; Ethan Sogoian, Electrical Trades 2; and Kayin Wethers, Carpentry Services.
Several of Watervliet's CTE graduates also received awards or recognition for their skill and excellence in programs that have prepared them for their future careers.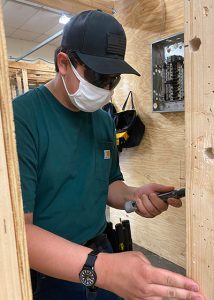 Daniel Baughn received the Jay Frankel Award from Albany CTE. The award is named after a former instructor who left a big impression with his students and recognizes effort and excellence in the Building Trades program. Daniel was also named Outstanding Student in the Building Trades program
In the Electrical Trades program, Ethan Sogoian was recognized for Growth in Achievement.
Zachary Czwakiel was recognized for Academic Achievement in the Retail and Office Services program.
Peter Angus was recognized for Growth in Achievement in the Vocational Training program.
Watervliet senior designs an animated future through Capital Region BOCES program
Watervliet High School senior Simeon Gonzalez has been accepted into the Digital Media program at Hudson Valley Community College in Troy, where he will build on the skills and knowledge he developed while at the Capital Region BOCES Career and Technical School.
"Eventually, I want to become an animator or work in digital design," said Gonzalez, while working on a project prior to graduation.
Gonzalez was one of approximately 30 students in the two-year Digital Media Design program offered by the BOCES Career and Technical School. Under the leadership of teacher Barb Gorbaty, students learn professional skills in industry standard software while developing a working knowledge of design theory and practice. They also engage in the same project planning and execution processes that are consistent with industry practice and demonstrated their technical abilities through the Adobe Certified Expert program.
Gonzalez said his experience in the BOCES program has given him an edge as he pursue higher education toward his career aspirations.
"Capital Region BOCES helped me because it taught me the basics of design. I have learned stuff that I never knew that will help me in the future," Gonzalez said.
Gonzalez and the eight other Watervliet High School seniors mentioned above are among the approximately 500 Capital Region BOCES Career and Technical School graduates who earned certifications this year in programs ranging from Digital Media to Electrical Trades and more.