No Place for Hate Week 2018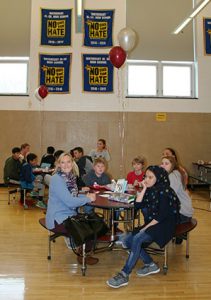 Watervliet Junior/Senior High School hosted its fifth annual Mix-It-Up Lunch during No Place for Hate Week (Oct. 22-26). The Mix-It-Up Lunch event offered an opportunity for students to break down social barriers by having lunch and conversation with classmates who they do not interact with on a regular basis. It allows students a chance to get to know one another, find common ground, and potentially form new friendships.
Teachers, support staff and high school students facilitated introductions among the seventh- and eighth-graders who were seated randomly at tables in the cafeteria. Equipped with conversation starters, the small groups began dialogue designed to have students learn more about each other.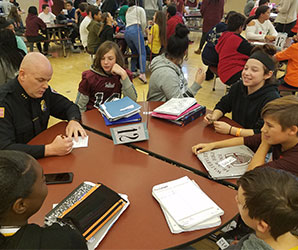 Special guests Watervliet Police Chief Mark Spain, Superintendent of Schools Dr. Lori Caplan, Board of Education President Sheri Senecal and board members Amanda Cavanaugh and Mary Beth Whited also participated in initiating the student conversations during the Mix-It-Up Lunch event.
About Mix It Up Lunch
Mix It Up Lunch is a national initiative launched more than a decade ago by the Southern Poverty Law Center's Teaching Tolerance project. According to the SPLC website, this campaign "encourages students to identify, question and cross social boundaries."
Schools across the country have implemented Mix-It-Up Lunch events that encourage students to sit with peers other than their regular circle of friends and engage in conversations. Cafeterias are often the center of Mix It Up events because that is the place where schools' social boundaries are most easily identified.
No Place for Hate
The Anti-Defamation League (ADL) of New York introduced the No Place for Hate initiative to create inclusive school communities by promoting unity and respect, and empower students to reduce bullying, name-calling and other expressions of bias.