The Capital Area School Development Association (CASDA) recently presented a Friends of Education Award to Dr. Amanda Duff, Director of Community-Based Initiatives and Program Support for Whitney Young Health. The Friends of Education awards recognize the selfless contributions of individuals who dedicate themselves to serving students and enriching their school communities.
Superintendent of Schools Dr. Donald Stevens nominated Dr. Duff for her commitment to making Watervliet's school-based health clinic a success. In his nomination, Dr. Stevens described Dr. Duff as being extremely positive in all of her interactions as she regularly works with district leadership to ensure that the Whitney Young health care teams have the means to meet students' needs.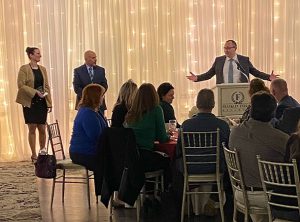 "During the pandemic these past two years, Amanda has been an unwavering health partner with our district. As schools slowly returned to in-person learning last year, Amanda worked to ensure that the school-based health clinic could conduct COVID-19 testing. With some creative solutions, we were able to provide PCR testing for students with symptoms outside of the schools without waiting in long lines," Dr. Stevens said.
The CASDA Spring 2022 Awards and Friends of Education Celebration was held on April 13 at Franklin Terrace in Troy.
About CASDA
The Capital Area School Development Association (CASDA), a non-profit organization, is upstate New York's premier educational technical assistance center. For more than 70 years, CASDA has served educators and students in more than 100 New York State school districts. CASDA's mission is to serve as a catalyst, convener, community developer and capacity builder for educators and the communities they serve. CASDA engages educators and their school communities in addressing challenges and embracing opportunities to create positive, lasting academic and social outcomes for students.