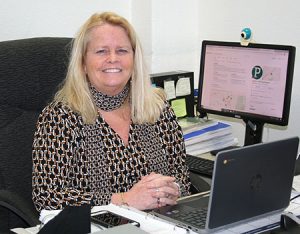 In one way or another, Janelle Yanni has been a part of the Watervliet City School system most all her life. First as a student, then as a teacher, and now in her final role as the director of Programs and Pupil Services.
When Mrs. Yanni retires at the end of February and steps out of the Watervliet Jr.-Sr. High School building for the last time, it will mark the close of a 30-year career with the city school district. But even more than that – for this lifelong Cannoneer – it will be like leaving home.
"Watervliet school district is like home to me and has a special place in my heart. I love the people that I work with and the families and children that I help to support," she said. "I wouldn't have wanted to have a career anywhere else."
Her childhood home on 12th Avenue sits just down the hill from Watervliet Jr.-Sr. High School, where Mrs. Yanni has worked as an educator since 1988. She attended School 9 near Brotherhood Park in the city from kindergarten through fourth grade before moving to the current Watervliet Elementary School for fifth and sixth grades when the building opened.
Upon graduating from Watervliet High School, Mrs. Yanni attended Siena College where she majored in math and science. It was her experience in an English class, however, that made her consider a career in education. "During my third year (in college) I had the privilege of enrolling in an English class taught by Dr. Margaret Hannay," Mrs. Yanni recalled. "She inspired me to become an English teacher. She showed such passion for the subject."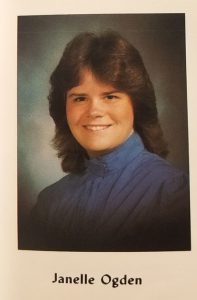 After graduating from Siena in 1988, Mrs. Yanni returned to Watervliet High School as a substitute teacher. She joined the faculty full time as an English teacher after another beloved English teacher, Peg Mullen, passed away. While serving as a classroom teacher, Mrs. Yanni earned her master's degree in reading from Russell Sage College. In 2002, she completed her educational administration certification at SUNY Albany. Longtime WHS principal Jack Weaver served as Mrs. Yanni's mentor for her current position as the Director of Programs and Pupil Services. "We still keep in touch to this day," Mrs. Yanni said of her mentor.
As for her immediate retirement plans, Mrs. Yanni and her husband are escaping the cold, gray northeast winter for a few months of sunshine, sand and warmer weather at their condo in southeast Florida. "We are also in the process of building a house in Saratoga," she said. "I don't think that I am going to have any time to be bored, but I hope to have some time to relax and enjoy the sun, beach and warm temperatures."
10 questions with Janelle Yanni, retiring Director of Programs and Pupil Services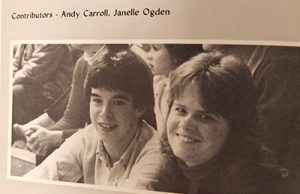 As Mrs. Yanni prepares to step out of that role and into retirement, she shared her thoughts with us on her time as an educator in her hometown.
What drew you to education originally?
I cherished my years as a student at Watervliet Junior-Senior High School. I wanted to give back to the community where I lived and that I loved so much. Watervliet has always been such a close knit community where your neighbors were always willing to lend a helping hand.
You have been a part of Watervliet schools for many years, what do you like most about your job?
Watervliet school district is like home to me and has a special place in my heart. I love the people that I work with and the families and children that I help to support. I have formed so many lasting relationships and created so many strong bonds. It is great to be in a meeting with parents who are former students of mine. It is so important to make those human connections. It immediately can put parents at ease when they know you have their back. I would like to think that I have made a difference in the lives of students who needed a little extra support. I wouldn't have wanted to have a career anywhere else. This is home for me.
What has been your favorite or best memory from your time as Director of Programs and Pupil Services?
My favorite memories are when parents who are former students call and thank me for helping them. I had a former student call me a couple of years ago and thanked me for helping him when he was a student and then for helping his own two boys. It meant the world to me that he took the time to make that call.
What has changed the most about the field of education since the start of your career?
I think the biggest change in education is the explosion of technology. Before the pandemic hit, I never utilized Zoom or Google Meets and now it is the norm. Technology has also helped with the sharing of information. When a student transfers from one district to another district, schools are able to share students' IEPs (Individualized Educational Plan) immediately, which helps with a smooth transition for the student during a time that can be very stressful for both the families and the students.
What have you found the most challenging aspect of your job?
The most challenging aspect has been balancing meeting the needs of the students and being fiscally responsible. We have to remember to focus on what the child "needs" and identify the resources to provide the most appropriate supports.
What advice would you give to aspiring, young educators looking to go into special education?
Pursuing a special education career can be very rewarding, but you must be willing to put the time and energy into the position. Important qualities that are necessary are patience, understanding and compassion. You must remember that you are a role model and that you are shaping the lives of the children that you work with. Aspiring educators must also remember to balance their personal and professional lives. It is important to disconnect, at times, in order to reenergize yourself. Be the best person you can be. Have no regrets if you have done the very best that you could.
What will you miss most about your job and this school district?
I will truly miss all of the people that I work with and the families that I help to support. Mr. Stevens recently said to me that I am having a lot of lasts, but I put a positive spin on it and said, "but, I am looking forward to a lot of firsts." Saying goodbye to my dear friends will be so emotional for me.
What are your hopes for the future of education?
I hope that students can get back to some sort of normalcy. Special education students definitely require in-person programming to receive the hands-on supports that they need. Children may say that they don't like structure, but they definitely need routines put in place. I also hope that our government officials make education a priority when it comes to the funding that schools so desperately need. Ours and their future depends on it.
If you could do another job for just one day, what would it be?
I would love to be a theatre actress for one day. I love to put smiles on people's faces and I would love to hear their immediate feedback/response. I love to see people happy and we need to see more of that during these difficult times.
Is there anyone professionally or personally you want to thank for their support in your success?
There are several people that I would like to thank. I'd like to thank the administrative team at Watervliet. We were always there to support each other especially during these unprecedented times. I'd like to thank my assistant, Donna Palmer, who was a godsend when she came to work in the PPS office two and a half years ago. The two psychologists, Daniele Tetrault and Veronica Bedard are my two right hand ladies. And the faculty and staff at Watervliet are second to none and were always willing to participate in CSE (Committee on Special Education) meetings when requested. Last, but certainly not least, I would like to thank my husband, Dave, who always supported me in my career. He encouraged me to go into administration and during that time held down all of the responsibilities at home and with our family. He always would lend an ear to listen to my endless stories and was proud of all of my accomplishments. I am ready to start the next part of my journey with him by my side.