A number of Watervliet students are sleeping more comfortably these nights thanks to a generous donation organized by a Watervliet High School alum.
Class of 2011 graduate Ernest Sziller who works for the Sealy Temperpedic company reached out recently to high school principal Ryan Groat about donating 21 new queen-size mattresses to students in the district who could benefit from better sleep furniture. The mattresses arrived via a tractor trailer on a recent Friday afternoon and Mr. Groat and our maintenance staff joined Mr. Sziller's team to unload the cargo. The mattresses were then delivered from the high school to families in the community.
Mr. Sziller, who works as a transportation supervisor for Sealy, Inc., said he it meant a lot to him to be able to give back to a school and a community he loves.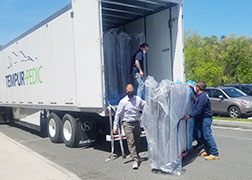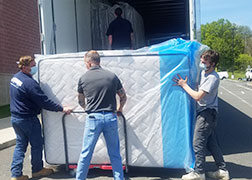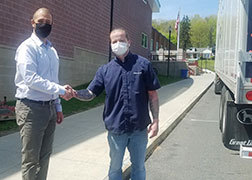 Sleep is important for learning and good health
We thank Mr. Sziller and the Sealy Company for this donation because sleep is vital to good health and improves learning.
A report by the American Academy of Sleep Medicine found that a majority of both middle school and high school students get less than the recommended amount of sleep, putting them at an increased risk for several chronic conditions.
According to the Center for Disease Control and Prevention (CDC), sleep is important to maintaining good health, and getting a good night's rest helps improve focus and improve academic performance by reducing attention and behavior problems. Sleep is essential to mental and physical well-being, especially for adolescents.
Read more about teenagers and sleep, and tips for helping them get a better sleep