Watervliet High School junior Alex Deluke has always wanted to be a barber, but there are no courses specific to the trade in high school that could help him achieve that goal.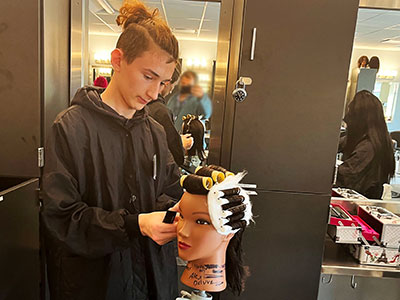 So he chose a different path – the cosmetology program offered by the Capital Region BOCES Career & Technical Education Center in Albany.
Although barbering and cosmetology have similarities, the two are different in the eyes of New York State. The differences largely focus on the beauty treatment aspects of cosmetology; however, it also includes cosmetologists' being able to apply chemical treatments, said cosmetology teacher Jean Hoffer.
Deluke, who wants to own his own barber shop one day, said that when he was frustrated at the lack of options to pursue barbering, his mother encouraged him to study cosmetology.
"My mother told me about the program because she took it. It sounded interesting so I thought, 'why not?'," Deluke said while styling hair on a mannequin in one of four Capital Region BOCES cosmetology labs.
Teacher Jean Hoffer said learning a broader spectrum of skills is a great opportunity and will prepare him well for earning certification as a barber after completing his BOCES experience.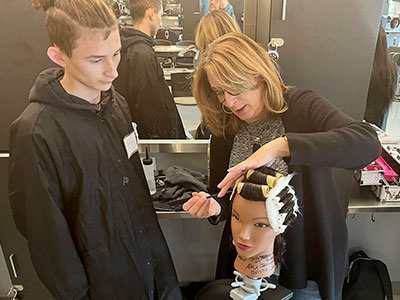 "The more skills you can bring to the table, the better your value professionally," she said.
Deluke agreed. "I like the program because I am learning a lot of extra stuff (chemical application, women's hair styles) that may come in handy," he said.
There are approximately 130 students currently enrolled in the two-year Cosmetology program on the Albany and Schoharie campuses. Students in the program gain the skills and 1,000 hours of training and experience needed to take the New York State licensure exam. The experience prepares students to enter the workforce upon graduation or to go to college and a have a leg up on future business competitors. Learn more about the Capital Region BOCES Cosmetology program