Students in Megan Matuszek's 8th grade careers and financial management classes recently completed a writing project to wrap up a unit on credit. The credit story writing competition allowed students to be creative and practice writing skills while also showing their understanding of the concepts they learned.
"For this project, my students had to develop a funny, serious, or unique storyline that incorporated credit-related terms," said Mrs. Matusek. Some of those terms and concepts included checking and savings accounts, interest rate/APR, credit score/FICO, debit, credit and budget. Students also learned about concepts including the proper use of borrowed money, and the connections between good employment, financial responsibility and reaching personal goals.
Winners from each class were chosen based on their creativity, ability to accurately use the terms and concepts, and their attention to detail with story revisions. Congratulations to the following students:  
Period 4
Ayla Bagnardi

Her story was a dialogue between three friends on a mysterious adventure in another country.

Amaya Miller

Her story focused on a recent college graduate just getting on her feet.

Olivia Miller

Her story featured a bank robbery and an investigation among the workers.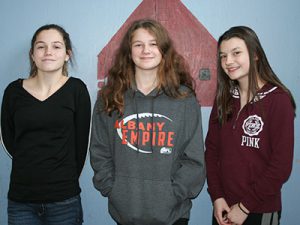 Period 7
Mustafa Rezaie

His story was about a gentleman sick of the busyness of New York City who makes plans to visit Barcelona, Spain.

Naveah Martin

Her story featured a young girl who wanted to attend a concert and learned how to balance money with help from her mom.