On Friday, June 25, a class of 104 seniors crossed the stage to receive their diplomas during a ceremony held at the Watervliet Jr.-Sr. High School as family, friends, classmates, faculty, staff and Board of Education members cheered on the graduates. View more graduation photos on Facebook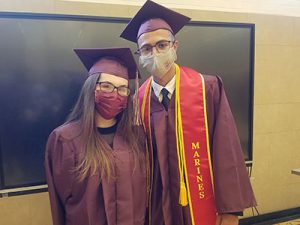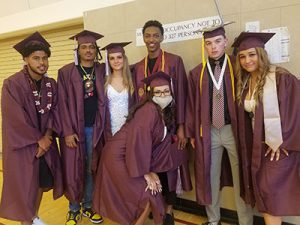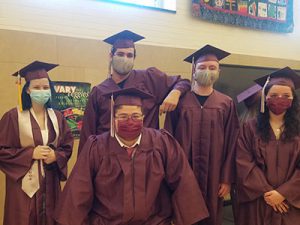 Principal Ryan Groat welcomed guests to the commencement, which brought to a close an extraordinary year marked by the COVID-19 pandemic. Rather than dwell on the hardships and the loss of the past 16 months, Mr. Groat spoke about the importance of adversity and seeing it in a different light.
"Adversity is one of the most powerful forces in life. It can bring out our best or bring out our worst. How do you handle the challenges? Do you see them as roadblocks or springboards?" he asked. "I am here to tell you that adversity plays a vital role in growth. Instead of avoiding adversity we need to embrace it; we don't have to like or enjoy it, but we have to believe in it and the role it plays in building character and creating learning opportunities from which we draw strength and we grow."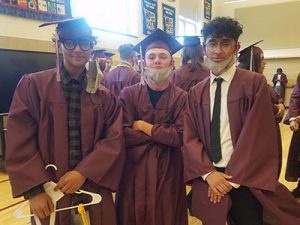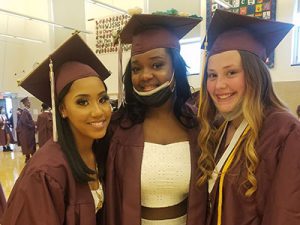 Class of 2021 representatives Kyle Daniels and Elle Garci also addressed their classmates.
"In a year like no other, I thank everyone in this gymnasium and everyone who worked hard to keep the doors open," said Mr. Daniels, the class president. "This school year was built on perseverance. Vince Lombardi said 'It's not whether you get knocked down, it's whether you get back up.' COVID-19 took a lot from us and from people around the world. It changed all of us, and these changes will reverberate for decades. Let's be honest in many cases COVID-19 knocked us down, but we got back up. We got up each and every time. We showed character, determination, and yes, perseverance. Tonight, we are testimony to the fact that no virus, no shutdown will ever prevent members of the class of 2021 from reaching our goals."
During her speech, Ms. Garci recognized two longtime staff members on their retirement from the district: music teacher Terry Bradway and bus driver David Capitula.
"Mrs. Bradway and Mr. Capitula gave their hearts and souls to the children of Watervliet," she said. "Cap knows every student by name and cares about each and every one of us. He always has a smile and kind word or a funny story to share. Cap treated us like family and we are forever grateful for that."
She then turned her attention to the veteran music educator. "Mrs. Bradway expected excellence in herself and her students," Ms. Garci said. "Even more important than the music, was the connections and relationships she had with her students. She cared about each one of us and inspired us to achieve our goals and dreams."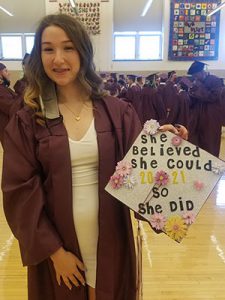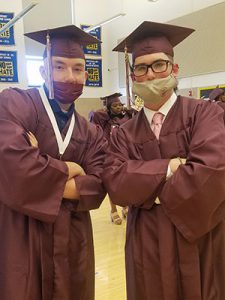 Board of Education President Amanda Cavanaugh also addressed the graduating class and guests.
"To say that we as a district are proud of you is an understatement," she said. "If I know nothing else about this class it is that your voices, perseverance and willingness to adapt and overcome are nothing short of amazing."
Superintendent of Schools Lori Caplan congratulated the Class of 2021 during her 16th and final graduation ceremony as she prepares to retire at the end of October.
"Many of you have learned things that will someday be read about in history books. You learned to navigate around the virtual world, you became problem solvers and authors of your own future," Dr. Caplan said. "You were able to decide how much effort you would put into your studies in whatever format you were learning in. You were able to decide if you were a victim of bad circumstances or a student in the school of hard knocks. From loss and suffering comes invention, wisdom and strength. You have much to celebrate and be grateful for as you decide if the glass is half full or half empty."
Last but not least, Dr. Caplan called out the graduate names as Mr. Groat and Mrs. Cavanaugh distributed the diplomas to members of the Class of 2021. We congratulate our graduates, now alumni of Watervliet High School!