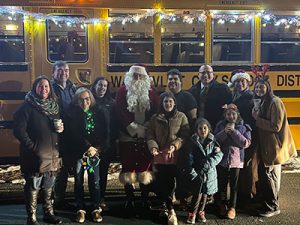 On behalf of the Board of Education, I wish Happy Holidays to our teachers, staff, students and families, whether you celebrate Christmas, Hanukkah, Kwanzaa or other seasonal festivities.
A reminder that our schools are closed from December 26 through January 2 for holiday break. I look forward to welcoming back our students and staff when classes resume on Tuesday, January 3.
As I reflect on the first half of the school year, I am proud of all we have accomplished together as a school community to challenge, educate and inspire every student, every day. I continue to be grateful for our caring and dedicated teachers and staff and their commitment to our students. I remain proud of our students for their efforts to learn and achieve in the classroom, on the stage and on the athletic fields. I appreciate our families for their ongoing support and cooperation.
Stay healthy
Over the holiday break, I encourage you to do everything you can to stay healthy as COVID-19 continues to spread along with a statewide increase in cases of other respiratory viruses, like flu and RSV. While respiratory illnesses like the flu are often manageable, they can have serious outcomes, especially for children.
Please help keep yourselves and our school community healthy by practicing the following steps to prevent the spread of viruses:
Stay home when sick or experiencing symptoms.
Stay up to date on vaccines, including flu, in consultation with your healthcare provider.
Wash your hands often with soap and hot water for at least 20 seconds.
Sneeze or cough into your elbow, not into your hands.
The health and safety of our students, staff and families are important and we must all be extra cautious during holiday gatherings to minimize exposure and protect those most important to us.
Season of giving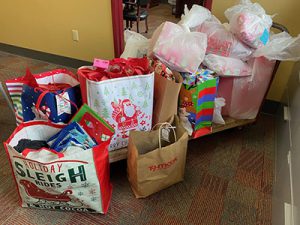 This month, our schools again participated in adopt-a family efforts to help make the holidays merrier and brighter for students and their families. Through the adopt-a-family at Watervliet Jr.-Sr. High School, 50 children from the Watervliet Housing Authority received gifts delivered by Santa a week before the holiday. Meanwhile, another 130 children were provided gifts of toys and clothing through a joint effort between Watervliet Elementary School and Watervliet Jr.-Sr. High School. My sincere thanks to our teachers and staff for their generosity and their support, which helps bring joy to so many of our students and their siblings. This is just one of the many reasons I am proud to lead our Cannoneer community!
May your holiday season be filled with the most precious gifts of all: time with friends and family, rest and relaxation, laughter and smiles! See you in 2023!
With appreciation,
Dr. Donald Stevens
Superintendent of Schools