Watervliet High School junior Demari Perkins is among the 14 high school students who have completed the first step towards their goal of becoming professionals in the network cabling industry.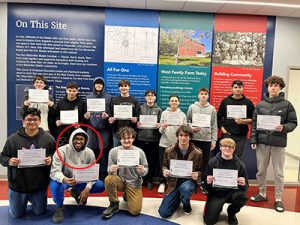 Demari and his peers from eight other school districts are enrolled in the Capital Region BOCES Network Cabling Technician/Smart Home Technology program. They were awarded their Network Cabling Academy Fiber Certification in December.
The professional certification acknowledges the students' understanding of the terminology and science behind optical cable technologies.
"By completing this certification, these students are way ahead of other entry level applicants in this field," said teacher Ed Henson.
For Demari the work to earn this certification has solidified his career choice.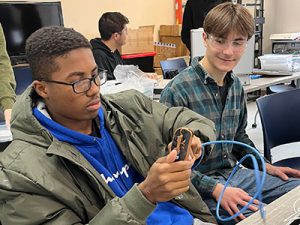 "This certification further fueled my passion to go into fiber cabling for a career," he said. "I like how I can learn skills that I can use everywhere. I want to go to work for Spectrum and go to Hudson Valley Community College for the Electrical Construction and Maintenance program and I feel I am learning what it takes to do both."
Other students said they appreciate the ability to build their resume with professional certifications while still in high school.
"The certification opens up a world of opportunities for us and opens doors that we wouldn't have otherwise," said Liam Pierce, who attends the program from the Maywood Academy and Niskayuna Central School District.
"The certification provides us with opportunities for careers we otherwise wouldn't have had," added classmate Gino Isabella from Mohonasen High School.
Students who earned the certification are:
Tyler Cieszynski, Schoharie
Ryan Feliciano, Berne-Knox-Westerlo (BKW)
Noah Feltman, Bethlehem
Nicholas Forezzi, Bethlehem
Gino Isabella, Mohonasen
James Lawrence, Cohoes
Luciano Leto, Ravena-Coeymans-Selkirk (RCS)
Elliott Martinez, Bethlehem
Demari Perkins, Watervliet
Liam Pierce, Niskayuna
Dylan Seyboth, South Colonie
Benjamin Skory, Niskayuna
Evan Thomas, BKW
Ethan Tice, Bethlehem
Students attending the two-year program learn a range of skills ‒ from network cabling using copper-based systems to applied systems integration, and energy management systems to telephone systems ‒ that helps them build a unique understanding of today's growing field of network connectivity and emerging technologies. Through lecture, course work and hands-on activities, students have the opportunity to explore this exciting field and gain the technical knowledge and professionalism needed to prepare them for a career in the tech and utility industries right out of high school or to continue with post-secondary study.
New name, same excellence for Capital Region BOCES program
Starting in the 2023-24 school year, the program will be known as Network Cabling, Wireless Technologies, and Cybersecurity. Teacher Ed Henson explained the name change better reflects the program's curriculum and the addition of cybersecurity training.
"Lots of parents would question why their student should sign up for the program when everything is going wireless and I would have to explain that wireless technology still must be cabled," said Henson. "Additionally, we have heard from parents, guidance counselors and others that students want cybersecurity, so we are adding that to the mix and giving students yet another pathway to college and career."