Before October comes to a close, we want to recognize our school principals and assistant principals for their hard work and their support of students and staff, as well as their dedication to every student, every day. We value their leadership during #National Principals Month and throughout the school year!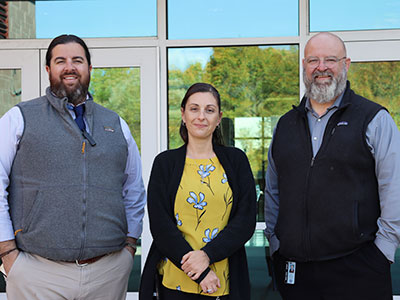 WJSHS: Jessie Richards, Principal (center); Michael Foust, Assistant Principal/Middle School (left); David Wareing, Assistant Principal/High School (right).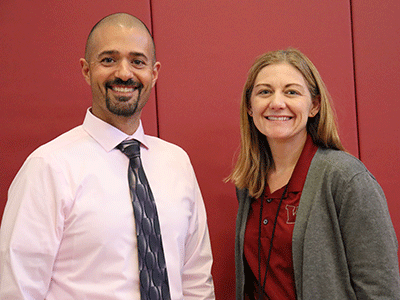 WES: Ryan Groat, Principal and Catherine Casey, Assistant Principal
Get to know Ms. Richards and Mrs. Casey, who joined the district's leadership team this school year.  Read about Ms. Richards │ Read about Mrs. Casey
Watervliet Jr.-Sr. High School welcomes principal Jessie Richards
Jessie Richards speaks enthusiastically about being selected the principal of Watervliet Jr.-Sr. High School and the opportunity it offers her to connect with students, teachers and staff members, which is essential to the role of building leader.
"What I am most excited about is having more contact with students and teachers (outside of emails). I've missed being able to have great conversations with students and having more of a direct impact on their lives in a positive way," she said. "Throughout the process everyone on the interview committee expressed excitement and happiness to be a part of this district. I have always wanted to be a part of an environment that feels like a family — and the Watervliet City School District clearly has a family-like vibe."
Ms. Richards knew early on that she wanted to be an educator, and she pursued that lifelong dream earning a bachelor's degree in childhood education at Lasell College in Newton, MA, followed by her masters in special education from the College of Saint Rose in Albany.
"As a young girl, I knew I wanted to be a teacher. I always enjoyed taking care of younger children and that is what pushed me to go into education," she said. "As I taught in different schools and classrooms I decided I wanted to make more of an impact, which is why I became a school administrator."
While working on her administrative degree, Ms. Richards served as a behavior specialist for the City School District of Albany. After earning an advanced certificate in Literacy, School Building Leadership and School District Leadership from the College of St. Rose, she joined the Schenectady City School District as an assistant principal at Mont Pleasant Middle School. More recently, she was director of secondary special education in the Niskayuna Central School District.
"Her background in special education and as a behavioral specialist combined with her administrative experience working in urban settings set Ms. Richards apart from other candidates," said Dr. Donald Stevens, Watervliet superintendent of schools. "She understands the needs of a diverse student population and is excited to join our Watervliet team. We are equally as excited to welcome her on board."
Ms. Richards began her career in 2003 as a substitute teacher at the elementary level. She then taught at the R & E May School in Albany and at Wildwood Programs, both of which provide support and services to individuals with developmental and/or learning disabilities, and the autism spectrum. Ms. Richards also taught students in a self-contained classroom in the Greater Johnstown School District.
During this first year, her main goal is to develop relationships with staff, students, families and the community, and through those relationships, to develop a collaborative team that works towards a common goal to support the school, the district and the community. "Success for all students is what drives my leadership," Ms. Richards said.
Five Questions with Jessie Richards
What activities do you enjoy in your free time?
My husband, David, and I have a beautiful 6-month-old daughter, Aliza, and I have four stepchildren ranging from 11 to 24 years old. We enjoy spending time together as a family taking walks, going out to eat at different restaurants, and exploring different areas around the Capital District. I personally love to visit Disney World, and take every opportunity I have to go.
What about pets?
Yes, a dog and a cat. I enjoy walking our Goldendoodle, Odin; and snuggling with our cat, Sylvestar (spelled with "star" on the end because I felt he was a star).
What is your favorite book (or current book that you are reading)?
When I have the opportunity to read, I prefer non-fiction text about mediumship.
What makes you laugh?
What makes me laugh most is when my daughter laughs, and when David and I play jokes on each other.
Any other thoughts you would like to share with the school community?
I want to thank everyone who participated in my interviews for making the process comfortable – and dare I say – enjoyable. I especially appreciated my time with the students who came in during their summer vacation to meet with me. I look forward to meeting everyone and to the many years ahead of us working together.
WES welcomes assistant principal Catherine Casey
The new assistant principal at Watervliet Elementary School began her professional life as a public relations associate at a local PR firm. It wasn't long, however, before Catherine Casey decided to follow a different career path – one that led to the classroom.
"There just seemed to be something missing. I needed to feel that my work was making the world a better place than I found it," Mrs. Casey said. "Hoping to make an impact on my community and make a difference in people's lives, I went back to school to complete my master's degree in education."
Throughout graduate school, she worked substitute teaching and provided training to state employees through SUNY Albany's professional development program. After earning her degree from The College of Saint Rose and her teaching certification, Mrs. Casey joined the faculty at Bethlehem Central Middle School where she taught 7th and 8th grade English Language Arts (ELA). During her tenure, she was certified by the International Society for Technology in Education (ISTE) and served as a technology coach in the district for several years.
Inspired to make even more of an impact on education, Mrs. Casey completed her school building leader certification at Massachusetts College of Liberal Arts (MCLA), and is currently finishing her school district leader certification with MCLA.
"Coming from 14 years as a classroom teacher, I am excited to get a different perspective on classroom learning and teaching, and all aspects of the school community," she said of her new role serving on the leadership team with Principal Ryan Groat at the elementary school.
Mrs. Casey said she looks forward to building relationships with Watervliet teachers, students, and families.
"I want to support the terrific work that I've already seen being done here at WES, like the school store that celebrates positive student behavior. That really excites me," she said. "Beyond that, I hope to gain the trust of the Watervliet community, proving that I'll be the kind of administrator who is committed to doing what's in the best interest of students."
Five Questions with Catherine Casey
What activities do you enjoy in your free time?
When I'm not working, you can usually find me doing something active like running, doing yoga or hiking with my family: my husband and our three children ages 5, 9, and 11.
Any pets?
Yes, a dog; our golden retriever also likes to go hiking.
What is your favorite book (or current book that you are reading)?
As a former ELA teacher, asking to pick my favorite book is like picking a favorite child – I just can't do it! I just finished Cloud Cuckoo Land by Anthony Doerr.
What makes you laugh?
My husband constantly cracks me up. I couldn't be married to someone who didn't!
Any other thoughts you would like to share with the school community and Watervliet families?
As a mother of elementary kids, the #1 thing I want is for my child to be safe and cared for while they are away from me at school. I hope to be a friendly face, letting you and your child know they are welcome here.