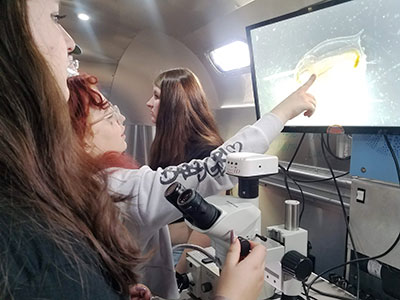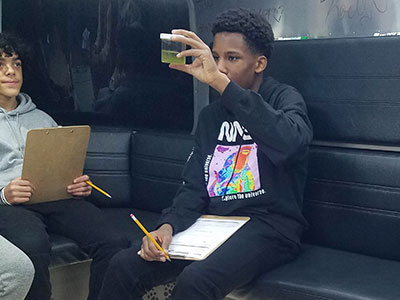 Students hopped aboard the BioBus during a recent visit to Watervliet Jr.-Sr. High School and had an opportunity to explore biology through a different lens, literally.
While on the bus, grade 7 Life Science classes and high school Living Environment students used high-powered microscopes to observe daphnia and other minute multicellular organisms that live in freshwater ecosystems.
The BioBus is a state-of-the-art mobile science lab that travels around New York and neighboring states delivering high-tech demonstrations directly to schools and provides hands-on learning activities designed to generate  excitement about science among students.
And that is just what it did during its visit to Watervliet, according to feedback from students:
"I thought it was fun, creative, and cool. I also learned a lot."
"It was cool and it's different from what we do on a regular basis."
"It was really fun, and I felt like it was sorta hands-on and it helped me learn."
"It was a cool experience."
"I would like the BioBus to come back because it was so amazing and fun."
"We got to see daphnia and algae [projected] under the inverted microscope, and then we got to use the microscopes to look at the daphnia again and plants."
One science teacher described the BioBus as a terrific experience for students that gave them a valuable opportunity to interact with the scientists. "They (students) got to see real-world applications of topics that we discuss in class," the teacher said.
Another teacher agreed. "The BioBus was an awesome chance for my students to get out of the classroom and experience hands-on science."
"In the six classes I worked with at Watervliet there was 100% participation using research microscopes and a ton of great questions and observations being made," said Ben Dubin-Thaler, Ph.D., BioBus Founder & Executive Director.
"The BioBus was an amazing opportunity for our science classes to take a field trip right on campus and receive authentic exposure to hands-on science education," said Kelly Webster, Assistant Superintendent for Curriculum and Instruction.