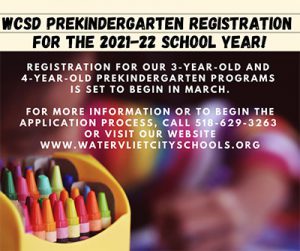 A reminder that registration for the EPK (3-year-old) and UPK (4-year-old) classrooms 2021-22 school year begins soon!
Applications are available in the main lobby at the Watervliet Elementary School between 7:30 a.m. and 3 p.m. or download forms from our website.
Completed applications and supporting documents can be returned to the elementary school beginning on March 10-11 for EPK and March 17-18 for UPK. Space is limited!
View information about applying for 3 year-old-prekindergarten program (EPK)
View information about applying for 4 year-old-prekindergarten information (UPK)
Families who submit completed applications within 30 days from the start of the registration period will be placed in the district's lottery for the available openings. Program details are located on the registration packets and on the district's website.
Please contact the Pre-K office at 518-629-3263 or email dmele@vlietschools.org or kdemento@vlietschools.org if you have any questions or need help with registration.